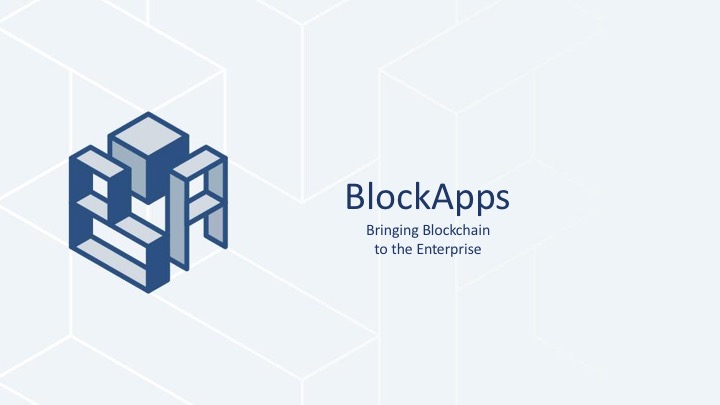 Enterprises can now manage consortium blockchains with smart contract enabled network governance
BROOKLYN, NEW YORK – June 1, 2018 – BlockApps is proud to announce the release of a smart contract-based permissioning standard for private enterprise Ethereum blockchain customers. One of the biggest challenges for consortiums adopting blockchain is the ability to add and manage new members in a decentralized manner.  This update easily allows members of a private blockchain network to add and remove participants from their consortium networks.

"We're introducing a scalable network governance standard to the enterprise Ethereum ecosystem, as well as the open-source community at large," says Kieren James-Lubin, CEO of BlockApps.

BlockApps provides a robust standard for managing user permissions in enterprise consortium networks by using smart contracts as access control lists. The standard provides configurable governance models to allow whitelist and blacklist of users and nodes. This new functionality was designed in close collaboration with EEA members.
The design of this mechanism was informed by BlockApps' two-hundred plus enterprise engagements with companies ranging from small startups to Fortune 500 companies, including UPGRADED, Minsheng Insurance, and BHP Billiton.
"This flexible approach solves a major problem in the enterprise blockchain ecosystem by managing membership of consortium blockchains without a central broker. It's also an example of collaboration between members of the EEAs and built with input from our large customer base," says BlockApps Founder, Victor Wong.
While blockchains offer significant business benefits such as traceability, data integrity, and cryptographically secured governance, meaningful blockchain implementations require sufficient tooling layers in order to scale. To this end, BlockApps continues to support the Enterprise Ethereum Alliance in its efforts to strengthen enterprise-grade extensions of Ethereum-based blockchain networks, which include modifications for scalability, security, and privacy.

By implementing peer-node and user-level permissioning to control which parties may read and write transactions on a network, BlockApps proudly ushers in a new frontier of accessibility for innovative businesses and Fortune 500 companies.
About BlockApps:
BlockApps was the first company incubated out of ConsenSys in 2015 and has created several industry innovations including the launch of the best, easy-to-use, most powerful Blockchain as a Service (BaaS) platform on the market called STRATO. Since launching STRATO on Microsoft Azure in 2015, BlockApps has become the first blockchain company to partner with all major cloud platforms (Azure, Amazon Web Services, Google Cloud Platform) and is a founding member of the Enterprise Ethereum Alliance (the world's largest open standard blockchain organization). Today, we continue to expand our partner network and the enterprise-grade capabilities of STRATO.
More Recent Posts: