BlockApps Video Webinar
This month here at BlockApps we're continuing to focus on making it easier to build, deploy, and distribute dApps.  We first publicly debuted our latest features, the Apps tab AKA Launchpad and the New integrated code editor, at our 10/27 Meet-up (
Event Summary Here
).
This week we hosted a live BlockApps video webinar in order to do a deeper dive into these exciting developments. In this video the BlockApps engineering and product teams worked together to provide a walk through how users can leverage these new features.
Topics Covered:
– An overview of STARTO
– App Launchpad
– Integrated Code Editor
– Tips & Tricks
Apps Tab Summary: 
Allows users to package dApp bundles, upload them to STRATO and launch them to test their functionality. The dApp bundles consist of a collection of Smart Contracts and a UI file so that users of the dApps can execute multiple smart contract functions using the UI that developers create to interact with the dApp.

Code Editor:
A relatively simple code/text editing tool that lets users quickly create and edit smart contracts they are writing from within the STRATO platform.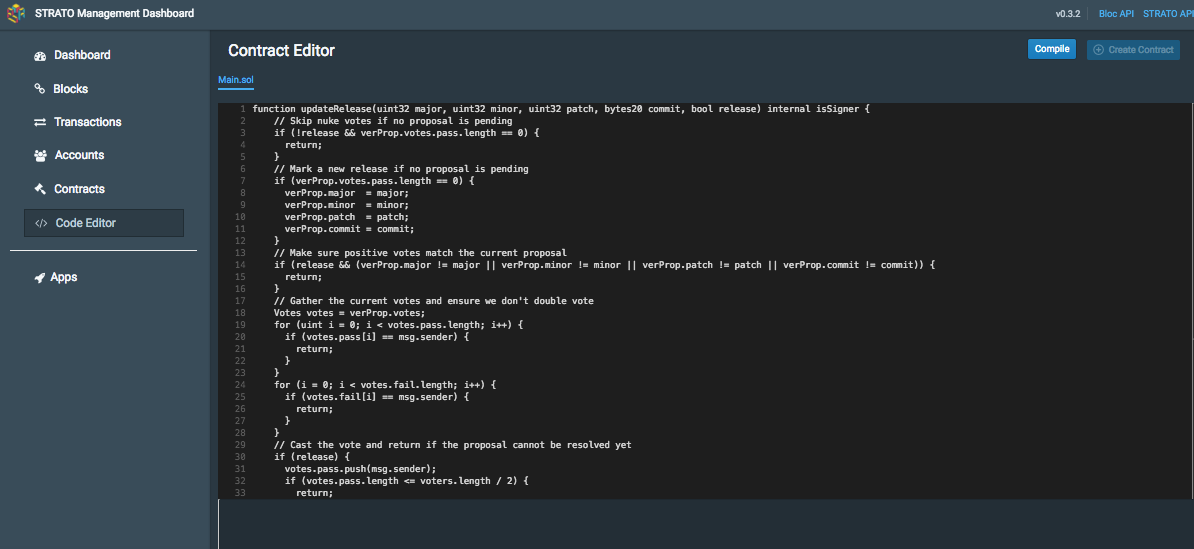 Stay Tuned… More product feature walkthrough webinars & videos coming soon!
About BlockApps:
BlockApps was the first company incubated out of ConsenSys in 2015 and has created several industry innovations including the launch of the best, easy-to-use, most powerful Blockchain as a Service (BaaS) platform on the market called STRATO. Since launching STRATO on Microsoft Azure in 2015, BlockApps has become the first blockchain company to partner with all major cloud platforms (Azure, Amazon Web Services, Google Cloud Platform) and is a founding member of the Enterprise Ethereum Alliance (the world's largest open standard blockchain organization). Today, we continue to expand our partner network and the enterprise-grade capabilities of STRATO.
More Recent Posts: