BlockApps, the leader in Web3Commerce for Business, is excited to announce the first sale of artwork on its platform, MercataArt, as part of its beta phase. The first painting, titled "New Beginnings' created by Toronto artist Sara Purves, was just sold on MercataArt. The platform allows artists to register their works on the blockchain, providing collectors with clear records of the artwork's provenance, ownership history, and authenticity.
"I registered my painting on MercataArt. This registration code was then put on the back of my artwork and remains on the blockchain for life," said Sara Purves, the artist. "Now anyone purchasing my painting can access this registration and proof of authenticity. If my painting is resold, the new information is added to the registry, and I receive a royalty from that sale. This is REVOLUTIONARY for living artists. We can finally benefit from the resale of our own work as well as offer our collectors a significant benefit to their ownership of our art."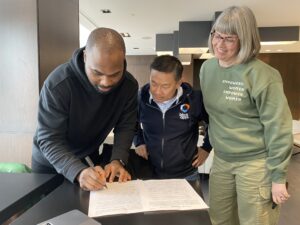 However, the platform is more than just a place to buy and sell art; it also provides additional benefits to artists and collectors. Artists can track the progress of their works and receive ongoing royalties from secondary sales, providing a consistent revenue stream from their work. Furthermore, they have access to a broader range of collectors and can showcase their work in a more accessible manner. Collectors benefit from a documented history of the value of their pieces and the knowledge that they are directly supporting the artists. They also have access to a wider range of artists and can be confident that they are buying genuine artwork. Ultimately, the platform serves as a positive conduit between artists and collectors, connecting them in ways that would not be possible in traditional settings.
"We are excited to launch this platform, which we believe has the potential to revolutionize the art world," said Kieren James-Lubin, Founder and CEO of BlockApps. "By providing artists with a platform to showcase their work and connect with a wider range of collectors, we hope to create a more sustainable and equitable ecosystem for the art industry." The platform is now accepting new pieces, to get involved visit https://mercataart.carrd.co