BLOCKAPPS & EEA
Driving Enterprise-Grade Ethereum Technology Standards
Ethereum is a technology formed by a community that is open and inclusive and will be available to all the people of the world. Transforming the way the world shares information and value requires a diversity in thought and experience from diverse groups.
The EEA is comprised of a diverse group of members with a vision of global cooperation built on a new foundation of trust by enabling organizations to adopt and use Ethereum technology in their daily business operations.
What is the EEA?
The Enterprise Ethereum Alliance (EEA) is a consortium of industry and Ethereum blockchain experts focused on developing enterprise-grade standards and technical specifications for Ethereum blockchain technology.
The EEA is by-far the most popular and effective standards organization in the industry. The organization is member-driven, with 100's of participating companies such as Intel, PWC, Consensys and JP Morgan Chase.
Understand enterprise requirements
Build standard specifications that addresses these requirements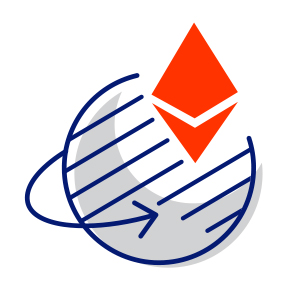 Evolve alongside and include the public Ethereum blockchain
Achieve global interoperability through certification programs
What is "Enterprise" Ethereum?
Ethereum blockchain technology is sometimes dubbed as Web 3.0 because it poses a revolutionary approach to networking and communications. However, the protocol and standards defined in Ethereum's white paper and yellow paper only go so far.
Enterprises have a duty to ensure technologies are reliable and efficient enough to operate at scale and offer adequate value and security to their customers, partners, employees and stakeholders. This is where Enterprise Ethereum comes in to play.
Much like W3C for the internet, the EEA focuses on creating, documenting and maintaining standards that address enterprise requirements.
STRATO Uses Enterprise Ethereum Standards
BlockApps cares deeply about Enterprise Ethereum standards and specifications because they drive the roadmap and development of our flagship STRATO product.
Secure & Private Data
STRATO uses private chains to administer enterprise-grade role-based access control (RBAC) and uses the most flexible set of authentication techniques available.
Designed for Business Activity
STRATO applications, features, network speed and integration capabilities are designed with business needs and ROI in mind.
Human-readable, Developer Friendly
STRATO abstracts away the complexity of using blockchain technology with human-friendly interfaces for users and additional toolsets for developers.
Next Steps
Ready to see what BlockApps can do for your business?